The Pulaski Fire Department is a combination paid and volunteer department with eleven (11) paid members and twenty (20) to twenty- five (25) volunteer members. This includes the Chief, 5 Captains, 4 Lieutenants, and 2 Sergeants.
Both volunteer and paid members of the department are on call 24 hours a day.
Members of the department must have a minimum of 40 hours of training each year. They are also required by the state to be certified as a Firefighter II, which requires a total of 250 hours of classroom and on-site training.
Facilities and Equipment
The Department operates out of the Fire Station located at 117 North Jefferson Avenue. The station was originally built in 1923 and had an additional bay added in 1959. Fire Department maintenance facilities are located in the adjacent department shop at 121 North Jefferson Avenue
Presently, the Fire Department has a fleet of ten vehicles including a Chief's response vehicle, two pumpers, a brush truck, a utility truck, a rescue truck, a ladder truck and three support vehicles. Department members are responsible for the maintenance and repair of all vehicles and equipment.
Mission and Outreach Programs
As part of its mission of providing emergency and non-emergency fire services to protect the lives and property of the citizens of the Town, the Fire Department offers specialized emergency services including rope rescue teams, vehicle extrication teams, and emergency basic life support.
In addition to its primary duty of community fire suppression, the Department serves as a local, regional and statewide training center for other agencies. The department operates the Pulaski Training Center on Draper's Mountain, which offers both classroom instruction and field training in firefighting techniques. Students have access to several facilities at the training center to obtain "hands on" experience in fire suppression including a rappelling tower, SCBA maze trailer and a state of the art livefire burn building.
History
Organized as the Pulaski Hose Company in 1880, the Pulaski Fire Department is the oldest department of the Town, established some six years before the Town of Pulaski was incorporated.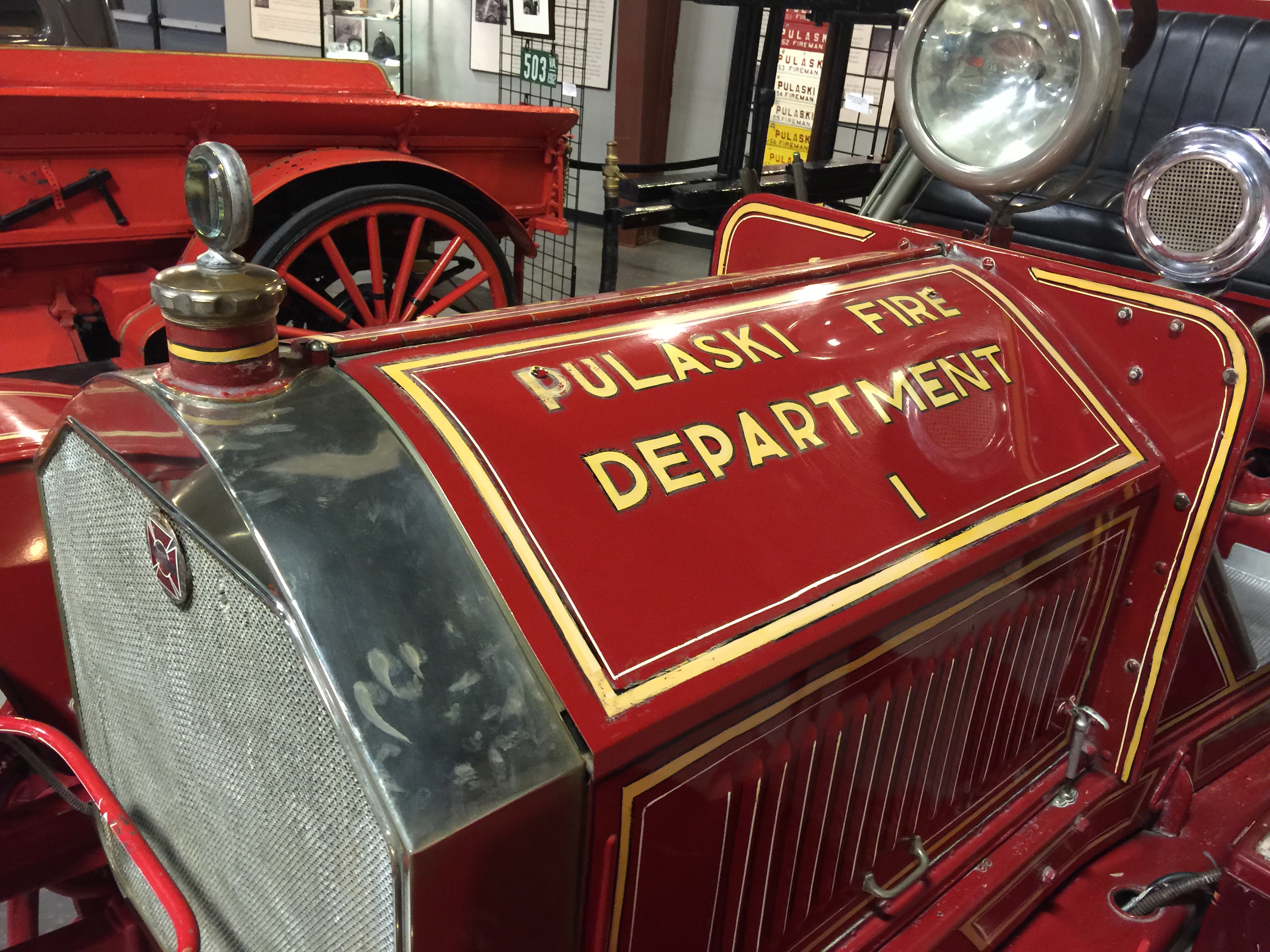 The first fire equipment were hose carts pulled by the fire fighters to and from the fires. They were housed in different locations on either side of Peak Creek as the Town grew. The department later had horse drawn apparatus. The apparatus was owned by the Town, but the horses were owned by private citizens. The owners were paid a fee for their horses to pull the equipment to and from the fire scene.
The current station was built in 1924 to house all Town fire equipment. The first motorized apparatus was purchased around 1909 with a pick up type bed for hauling hose. The Town of Pulaski later purchased a 1917 American LaFrance Chemical Pumper. Both of these vehicles are on display at the Raymond F. Ratcliffe Memorial Transportation Museum.